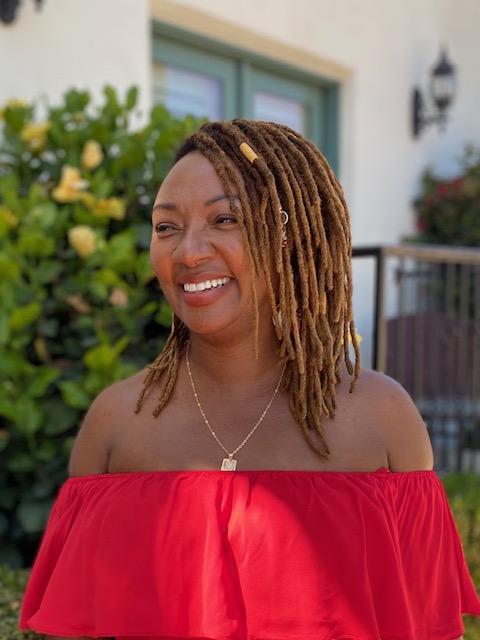 Von Simmons:  Exit Strategist. Break-Up Coach. Bounce Back Advocate. Clarity Conduit.  Heartbreak Healer.  Empowerment Promoter. Mindset Maven. Woo Woo Enthusiast!
Hey, y'all!  Von here, and I help women break-up and bounce back from expired relationships, situations and mindsets. I help them get unstuck, make big girl decisions, and get the fuck out of dodge. And after the dust has settled, I am there to help them heal from heartbreak and thrive in their new lives … all while making it feel like a soul-soothing sleepover with your bestest girlfriend.
I have been through my fair share of debilitating heartbreak. One break-up, in particular, cost me my appetite (ya girl literally lost 11 pounds in two or three weeks), my sleep, my mental health (I literally felt like a zombie on antidepressants), and my dignity (never again will I reach out for "closure"). It took me what seemed like forever but eventually, I bounced back like a boss. And I can show you how to do it faster and with more positive residual impact.
I am passionate about helping women RISE from the flames of break-ups and divorces and SHINE as radiantly as ever! Wherever you are in life, whatever fucked up situation you find yourself in,  I can guide you through it and help you come out stronger, wiser & victorious! 
Through powerful conversations, inspired action, and my magical gift for creating safe and supported environments where the most profound transformations take place, I'm here to help you finally achieve the greatest love of all.
And when I'm not helping members of my fierce lady tribe create lives overflowing with self-love and fulfillment, I perform in an Egyptian Belly Dance Troupe (I've even traveled to Egypt to perform). I also love books (personal development mostly), movies (especially if there's a complicated relationship involved), music (R&B/neo-soul is my fave), museums, farmer's markets, and trying to find good vegan restaurants.
My website, coachvonfisher.com, is THE place to be for candid, life-changing conversations with a healthy dash of empowerment. I also hang out on IG at @coachvonsimmons. 
And now for five little-known facts about me…
I love, love, love elephants. In fact, I foster an elephant named Shukuru through the David Sheldrick Wildlife Trust in Nairobi, Kenya.

I went to the same elementary and high school as Michelle Obama.

My life path # is 9 (36/9) which means that despite being a humanitarian/utopian, I am in a perpetual state of letting go and releasing.

I don't eat any white condiments (mayo, Miracle Whip, sour cream – nothing). I had a bad mayo experience as a child.

I have either studied or practiced just about every major religion at some point.
Rise & Shine,
Coach Von